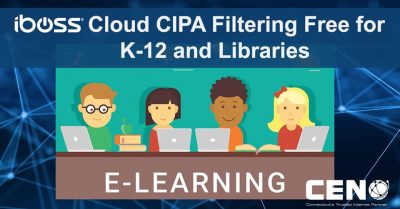 CEN is excited to announce the recent addition of iboss cloud CIPA compliant content filtering at no cost for K-12 and libraries and at volume pricing for other members.
The addition of iboss cloud to the portfolio will update the availability of options and provide a pathway for members to support 1:1 initiatives at scale, to support multiple operating systems in your environment, and to increase visibility and reporting without having to worry about inline appliances.
To plan your path to iboss cloud, email iboss at cen@iboss.com or call 877-742-6832. Just tell them you're a CEN member. Visit our From the Director webpage to view the full announcement, and check our Web Filtering page on our website in the next few days for updated content.
---