Congrats 2022 CEN Outstanding Leader Award Recipients!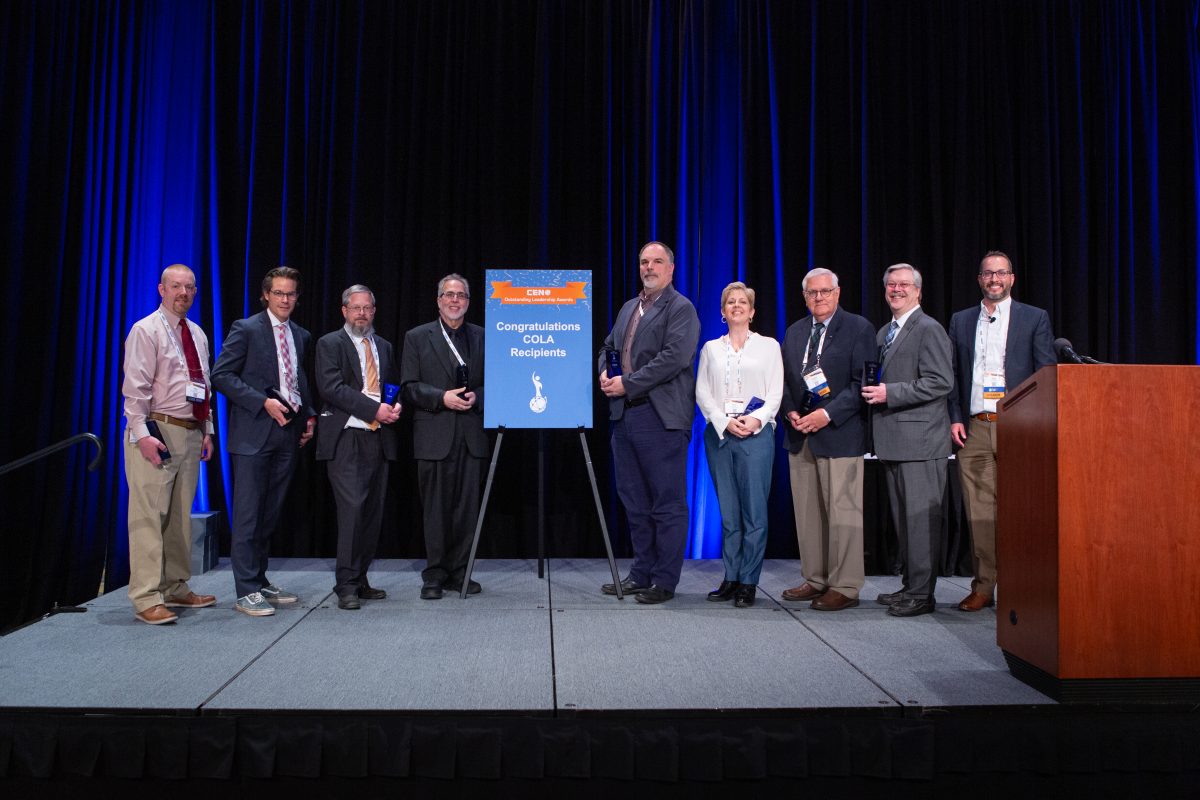 Read more about the 2022 Outstanding Leaders below:
Dick LeFave
D&L Partners, LLC
Richard (Dick) LeFave has been an integral, volunteer member of the CEN team for over 4 years. Dick is well known on the team for his technology, management, and business acumen, engaging and humorous style, high energy, dependability, and, his remarkable ability to get things done with an ever present focus on CEN's first strategic goal : provide value. 
Whether it is developing the CEN website content, drafting CEN reports and marketing materials, or developing the annual member conference program, we know and expect Dick will make many substantive contributions, often by refocusing the team on the value proposition with his characteristic question, "so what?" to ensure the team highlights the member benefits. With respect to the development of CEN's mission and vision, Dick was a member of the team that created CEN's 5-year Strategic Plan and has consistently worked to integrate those plans into CEN initiatives and to provide community communications that highlight performance against that plan.
It's clear that Dick never really retired. He has found other venues in the Connecticut public sector for making a contribution and adding value. This includes volunteering at CEN and also the state's Department of Emergency Services and Public Protection.  His contributions to the CEN community and to his home state are numerous and substantial. 
Congratulations and thank you Dick!
Jeromy Nelson
Regional School District 15
Jeromy Nelson has served as the Director for Fine, Applied, and Technical Arts for Regional School District 15 for the last 5 years. Prior to his role in Region 15, Jeromy was the Coordinator of Technology Engineering, Business and Computer Science for Darien Public Schools.  In his roles, Jeromy has been a tireless leader, advocate, and collaborator for digital learning and technology training for staff. In so doing, Jeromy has embodied dedication to the CEN vision by building and enhancing the digital and human networks in his public K-12 organizations. 
His contributions to Regional School District 15 include leading the transformation to virtual learning during the pandemic. Jeromy identified and trained students and staff on devices and learning platforms, built tutorials, and ensured web portals provided parents and teachers the resources they needed to ensure high quality education.  Combining his technical expertise with a caring, accessible, and collaborative demeanor, Jeromy has demonstrated a dedication to realizing the full potential of digital learning and making a positive impact on the CEN community.
Congratulations and thank you Jeromy!
John Elsesser
Town of Coventry
John Elsesser is Town Manager for Coventry and has served for more than 10 years as a member of the Connecticut Commission for Educational Technology. In that capacity, he has championed the mission of the Connecticut Education Network (CEN) as well as its value to his community and the state. 
His initial advocacy contributed to the addition of municipalities to the CET so that towns could also experience the value of the community and the network. 
He has demonstrated exemplary leadership in advocating for funding to support the Network across multiple administrations and legislative sessions. Despite his many responsibilities in leading the affairs of Coventry, John invests his time and significant influence to help ensure that the Network thrives and expands in delivering member services. John demonstrates creativity in his advocacy, working through groups such as the Connecticut Conference of Municipalities (CCM) — where he serves as a director — and Connecticut Council of Small Towns (COST), to raise awareness of CEN's value.
John's advocacy and work products embody the CEN mission by facilitating the sharing of technology resources with other towns across the Network.
Congratulations and thank you John!
Karen Warren
Wesleyan University
Karen Warren has been a member of the Wesleyan University IT team for over 14 years and currently serves as Deputy CIO. Prior to Wesleyan, Karen directed technology at the American School for the Deaf (ASD).  At both organizations and dating back to CEN's inception in 2000, Karen has been a consistent supporter of CEN, advocate for its services, and an integral member of the CEN team in advisory roles.
Karen recognized and appreciated CEN's unique value proposition over 20 years ago. At ASD, she led the way successfully advocating for a CEN circuit which allowed the school to leverage video conferencing and the students to benefit from related remote interpreting and educational programs. Karen brought that same enthusiasm for CEN to Wesleyan where she promoted the unique benefits of CEN including connectivity to the broader research communities, on-demand capacity and speed availability, diverse fiber paths, highly personalized service, and access to community talent. 
Karen has served on multiple CEN teams and member councils including Strategic Planning, Technical Advisory, CXO, and as co-chair of Engagement and Development Advisory. Under her EDAC leadership with Rebecca Osleger, the council has produced expanded member conference and quarterly training offerings for the benefit of all CEN member groups.  Karen's positive impacts across the CEN community are numerous and substantial, and her accomplishments illustrate the power of the CEN / Member partnership.
Congratulations and thank you Karen!
Matthew J Ross
Farmington Public Schools
Matt Ross, Farmington Public School's Director of Technology, has served as a district and regional leader in the area of technology for many years.
Matt's contributions to his district and community are numerous including implementing technology systems for contact tracing and vaccination clinics, creating and maintaining COVID response website, securing and distributing one-to-one devices, coordinating food distribution and delivery for virtual learners, setting up live streaming for community meetings, creating support and training videos for students, staff, and parents, and instituting cost savings measures through school-town collaborations.  
Matt serves as co-chair of the CEN Service Management Advisory Council and member of the CEN Unified Communications project team. He brings his years of experience, technical expertise, intimate knowledge of member needs, and generous, collaborative style to each and every project. Working with the CEN team and member colleagues, Matt has made significant contributions to the development of the CEN service portfolio and to the overall connectivity of CEN's human network.
Congratulations and thank you Matt!
Nicholas D. Caruso, Jr
Connecticut Association of Boards of Education
Nick Caruso is the longest-standing member of the Commission for Educational Technology, serving in that role for more than 25 years. We could easily argue that Nick has advocated more for the effective use of technology for learning than any other Connecticut leader. He supported the conceptual design of CEN and has fiercely supported its funding and resourcing every year of its existence. 
In representing the Connecticut Association of Boards of Education (CABE), Nick has also leveraged his influence among school leaders. He champions the mission of CEN and its value in the trainings he conducts for boards of education across the state. He is also an active member of the Connecticut Association of Public School Superintendents (CAPSS), where he speaks often about CEN's value to the students under superintendents' charge.
Nick has also served as chair of the Commission's Digital Learning Advisory Council. Nick has led that group of school, university, and library leaders in efforts that draw a direct line between technology access via CEN and educational opportunity.  In every aspect of his advocacy, Nick points to the benefits that CEN provides as an essential component to ensuring equitable access to learning for every Connecticut student.
Congratulations and thank you Nick!
Rebecca Osleger
Town of Suffield
Rebecca Osleger serves as the director of the school and town technology teams for the Town of Suffield, an extremely unusual and demanding set of responsibilities. In these roles, she understands and champions the benefits of CEN to those respective stakeholder groups. Her advocacy has helped raise awareness of the performance and security aspects of CEN service, which has encouraged others to weigh in on additional services that would benefit their school, town, or library. Her advocacy and leadership has engaged countless other members resulting in a stronger and more connected technical and human network.
Rebecca has brought tremendous energy and creativity to co-chairing CEN's Engagement and Development Advisory Council (EDAC). She has actively supported the planning of professional development events over the years, channeling her in-depth knowledge of the key concerns of school and town technology leaders.  In addition to co-chairing the Engagement and Development Advisory Council, Rebecca initiated a series of statewide virtual meetings just after the pandemic forced the closure of schools. She truly represents the CEN community by working to address the concerns of multiple audiences and deepening the relevancy of the Network to its members and stakeholders.
Congratulations and thank you Rebecca!
Scott Roberts
Town of South Windsor
Scott Roberts is Assistant Town Manager and Chief Information Officer for the Town of South Windsor. Scott has also occupied leadership roles for the regional Information Technology Services Agreement, the Connecticut Government Management Information Sciences, the Connecticut Geospatial Information Systems Council, and he was selected by the Connecticut Secretary of State to serve on a cybersecurity task force.
Scott has been instrumental in extending and leveraging CEN's services across multiple communities including South Windsor, Coventry, Tolland, and Andover. He led the way in the construction of a state of the art Emergency Operations Center in South Windsor which garnered regional and national recognition.
Scott has demonstrated excellence and dedication to the CEN mission by providing extraordinary value through technology to multiple communities in the areas of fiber optic connectivity, security, and emergency management.
Congratulations and thank you Scott!
Tom Dillon
CET
Tom Dillon has served for nearly 10 years on the Commission for Educational Technology, CEN's governing body. This includes more than 6 years as the Chair of Commission's Infrastructure Advisory Council.  Tom is one of the most vocal supporters of CEN's mission of enabling member institutions to leverage technology for education.
As the founder of Flagship Networks, a private provider of technology services, he has an exceptional understanding of CEN's value. From CEN's redundant design and network-level filtering and DDoS protection services to its exceptional support model, Tom offers the perspective of what private providers can offer and charge. As a private sector insider, he understands perhaps more than most CEN members how valuable its services are — in many cases outside the reach of most schools and libraries if it were not for CEN. Looking into the future, Tom continues to champion CEN's eduroam services by providing a vision for fulfilling its potential as a tool for bridging the digital divide in Connecticut. 
Congratulations and thank you Tom!